The Annual Dialogue and Friendship Dinners are organized to contribute to the progress of intercultural-interfaith dialog and peace. With the participation of esteemed guests and people from different faiths, cultures, and ethnicities these gatherings have come to symbolize our desire to achieve a genuine cross-cultural understanding and cooperation.
Dialogue Institute cordially invites you to the 13th Annual Dialogue and Friendship DinnerTheme: "Teaching Compassion and Making a Difference"
Keynote Speaker: Sonya Romero, Teacher
Hero Teacher Sonya Romero at The Ellen Show
Sonya Romero, more commonly know as The Hero Teacher featured on Ellen in March of 2015. Her Ellen interview has more than 11 million views and climbing. Sonya has won several awards for her humanitarian efforts including a Congressional Award. Before Sonya entered the classroom she began her university studies in journalism and communications but went back to obtain a second bachelors in education. In 2004 she completed her masters and is currently working on her PHD. Sonya is Executive Vice President of Albuquerque Federation of Teachers and helps create content for the professional development courses they provide. You can find Sonya in her kindergarten classroom most weekdays at Lee Wallace Elementary in Albuquerque, New Mexico where her mission is to make every child feel safe.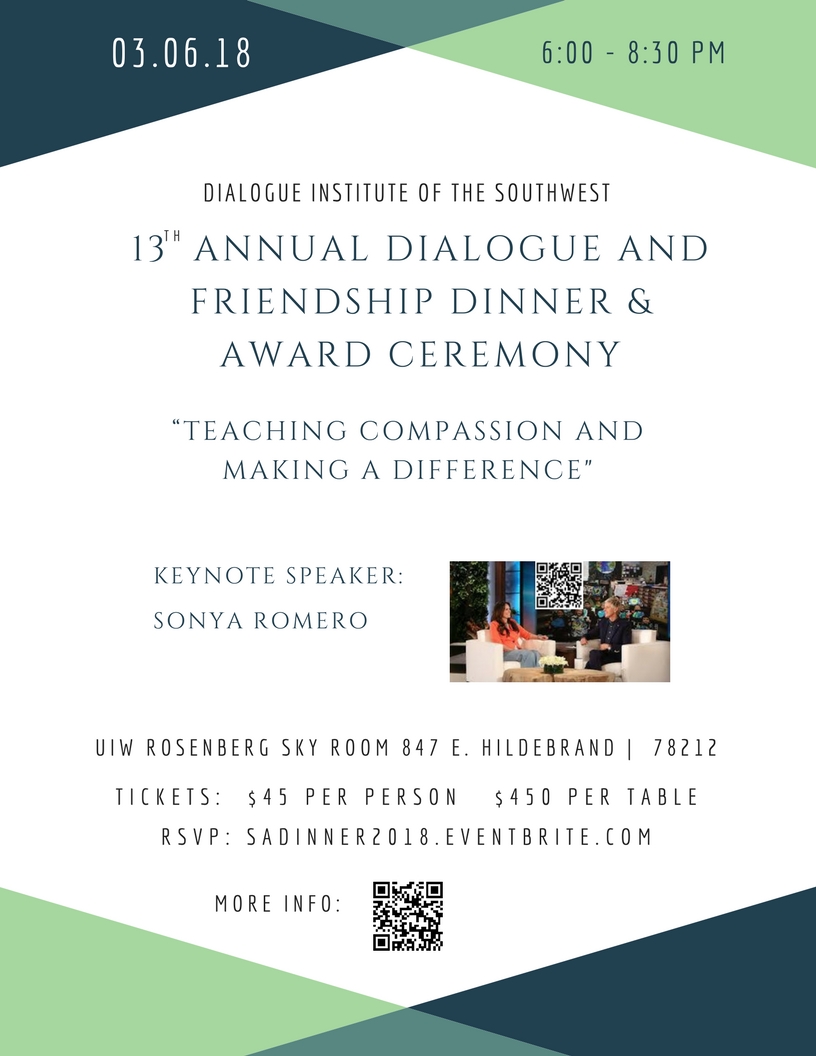 Date & Time
: Tuesday, March 6, 2017, 6:00 pm
Venue:
UIW Rosenberg Skyroom
847 E.Hildebrand, San Antonio, TX 78212
Charitable Partner
: ( Proceeds of the dinner will be shared with our charitable partner)
Dialogue Institute Friendship Award
: Shokare Nakpodia, Founder of DreamWeek San Antonio
Dialogue Institute Education Award:
SA Youth
Dialogue Institute Communication Award
: Molly Cox , President & CEO SA2020
Dialogue Institute Community Service Award:
El Bari Community Health Center
Co-sponsors:
UIW Liturgical Outreach and Raindrop Foundation